SM / Expansion Unit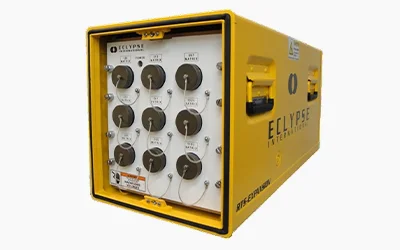 An Expansion Unit or Switch Module (SM) increases the number of test points, in a test system that can be connected simultaneously. Each added matrix provides an additional 128 test points. Multiple expansion units can be connected in series, using a single umbilical cable, to increase the possible number of test points up to 128,000. The narrow body Switch Module is an expansion unit with nine additional matrices whereas a wide body Switch Module may contain up to a total of 15 matrices.
A testing procedure designed to thoroughly test the electrical characteristics of a wire or cable, may require additional test points to connect the end points of all conductive paths. The changing and alteration of Test Adapter Cables (TACs) would become obsolete when having access to one or several expansion units. Increased testing efficiency alleviates the long, drawn out down times of the disabled aircraft while improving product readiness. Additional time can be spent on troubleshooting and problem identification and will not require the user to unhook and connect TACs to different matrices. Adding additional expansion units will save the user time, money, and effort.
The expansion units provide the user scale-ability in choosing how many additional test points are required to satisfy testing the entire system. The units are designed to be specifically constructed for a very specific platform and the testing of that platform. It becomes necessary to only utilize what is needed and required.
To purchase visit our Contact page. Federal Contractors can view Government price schedule at GSA Web Site.