Welcome U.S. Army Aviation – Cargo!!
October 5, 2023
Last month began a new era for US Army Aviation maintenance. Introduction of a new capability is happening starting with the Chinook helicopter. Plans for Blackhawk, Apache and other weapon systems follow in year 2 and beyond.
What is it? The program originates from the U.S. ARMY COMBAT CAPABILITIES DEVELOPMENT COMMAND AVIATION & MISSILE CENTER. Its focus is the ability to rapidly "validate" and "certify" Electrical Wiring Interconnect Systems (EWIS). This is accomplished by an automated testing system which can put proper loads onto the wire paths and provide initial reactionary troubleshooting. Historical wiring gripes can be located and fixed in minutes/hours vs days.
An acronym was given to the Automatic Detection & Determination of the Electrical Wiring Interconnection System which is ADDEWIS. The ADDEWIS additionally can functionally tests panels and assemblies rapidly at aircraft so that good assets are not inadvertently returned to supply.
Another capability provides planned, preventative, and predictive maintenance in an effort to eliminate 98% of future wiring issues by examining the electrical in new ways not historically available.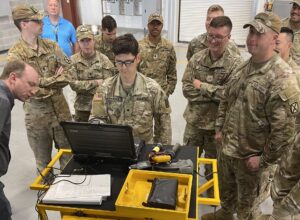 Each type of implementation provides direct training to the soldiers on how the systems are wired and allow for a systems approach method of maintenance. Each training level will perform the same procedures in order to streamline wire maintenance and collect data that provides insight to the health of individual aircraft in the fleet.
Bottom Line: Fault Isolation Procedures (FIP's) work as intended and overall avionics failures are dramatically reduced. Readiness improvement & $$$$ savings….what a great return.
Contact sales@eclypse.org for details and POC's who have integrated this type of effort on their platforms!